Facilities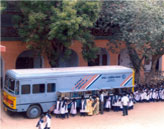 Mobile Science Exhibition (MSE)
The centre operated Mobile Science Exhibition in the rural schools located in remote areas of the state of Tamil Nadu. The bus carries 20 working exhibits based on general Science, a Science Demonstration Lecture unit and a Telescope for night sky observation.
Auditorium
The fully air-conditioned auditorium has a seating capacity of 125. The auditorium is equipped with a computer, an LCD Projector, Public Address System and Remote Control Lighting System facilities. It is used for all scientific/educational activities of the Centre. The Auditorium is available for like-minded organizations for such conferences, workshops, exhibitions etc., which has a scientific and/or educative value.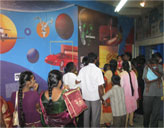 Canteen
Situated in the serene surroundings of the Science Park of the Centre the canteen isa place where visitors can relax with a cup of tea/coffee and snacks.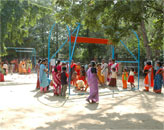 Picnic Spot
This is a designated place in the science park where the visitors and families can sit and relax and enjoy a picnic.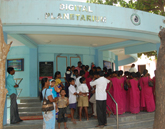 Digital Planetarium
This facility is an added attraction of the Centre. An 8m dome digital planetarium brings the night sky live during the day. It is supported by 7.1 digital audio system the planetarium dishes out programmes which change often.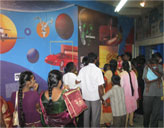 Souvenir Corner
The exclusive souvenir corner is a place from where visitors can purchase science based toys to gift for their beloved ones.